Hey Fellow Beast Legion readers,
As some of you may already know, I have been running a free fantasy adventure webmanga series titles the Beast Legion (www.thebeastlegion.com) for the last 4 years. It's a project that is very dear to me & It's something I want to share with the whole world. The reason I'm starting this patreon crowdfunding campaign is to widen the fanbase for the series & create a promotion mechanism that will help it grow & transcend boundaries. Click the image to visit the campaign & check all the awesome rewards & goals…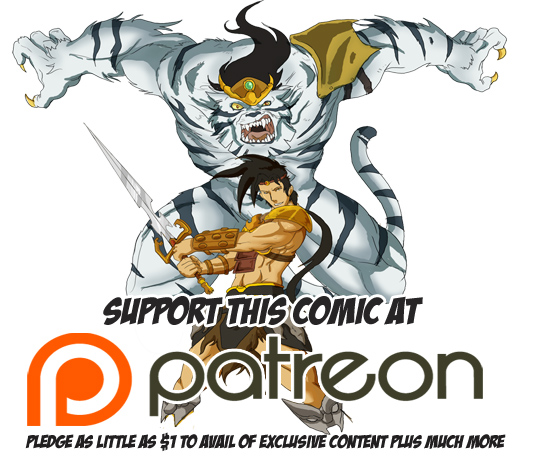 I will always keep the comic free to read & for all to enjoy but I am starting this campaign to raise funds for additional activities & various other plans that I have to take this series to the next level, which include organizing contests, getting the series in print, better advertising, releasing limited edition art books & hopefully a limited edition run of statues… But most importantly getting more people to read the comic. A pledge of even $1-2 goes a very long way if even 50 people contribute on a monthly basis. Every pledge will give you access to exclusive BL art.
I humbly ask all of you to at least give the campaign a look & take call & even if you cannot contribute please share it to the best of your ability. Together with your support i'm pretty sure we can spread the Beast Legion goodness accross the globe. Thanks for reading.
Help us in the TWC Ostrich in Hell Art Contest
The New TWC 'Ostrich in Hell' contest is officially a go. Will be entering it soon so stay tuned & do vote when it's up.

Be sure to check out our full entry by visiting the above link.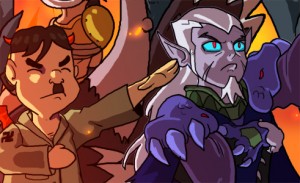 So here's the news as the 4th Anniversary moves further…You've been asking for it for a while. NOW The Beast Legion T-shirts are officially a GO! Choose your side… Drago's Shadow Nexus or Xeus's Lithopian Defenders & Unleash the Beast Within… Beast Legion is proud to partner with Cauze.in to bring you the first of many more designs to follow….Head on over the following link to order your Tshirt now…. http://www.cauze.in/designers-den/the-beast-legion
(so far shipping is limited to India but worry not international fans will be able to order these really soon… that's a promise)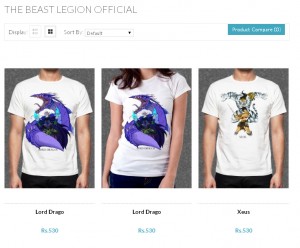 Please do check out Beast Legion's entry for the TWC "Hippos in Heaven" contest & cast in your vote if you enjoy it.
1)Click the above image & simply scroll down & open the entry.
2)After that, scroll down on the following page
3)Simply place the Avatar in the blank box & hit 'VOTE'.
4)If the vote is successfully cast the page will change to the default contest page otherwise it will stay onthe entry page.
Beast Legion EarlyBird Giveaway Announcent : Hey fellow Lithopians, Here's your chance to grab a free Vol1-Vol 2 combo of The Beast Legion at The Mumbai Film & Comic Convention 2013 . First 4 people who visit the Anitracks booth (A9) tomorrow & inquire about Beast Legion will be awarded a few copy of both volumes of the Award Winning webmanga series.
Rules:
1) Copies will only be awarded to Attendees & not participants
2) Give Away starts at 11 AM sharp(not earlier) & will last till 11.30 if comics remain unclaimed.
3)Only first 4 people who actually inquire about the giveaway will be awarded the issues.
4)No more than 4 sets will be issued & it will be upto us to decide the order of precedence. Please maintain a queue.
5) You will need an attendee tag to be eligible. So make sure you get yours before entering the exhibition center.
6)At present the give away is only scheduled for tomorrow.
May the power of the Guardian Beasts Shine upon you! Look forward to seeing you all there. — at Goregaon – Bombay exhibition Centre.